Program Description
Our Home Visiting Program is designed to serve homebound or non-ambulatory individuals in the community. Serious mobility challenges and other physical or mental health-related issues make it hard to leave home for health care visits — we will come to you instead to provide primary health care at your home.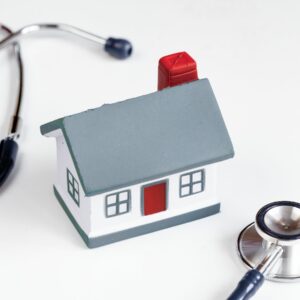 We provide the following services:
Routine health exams

Immunizations

Laboratory tests (bloodwork)

Manage prescription medications

Completing forms

Post-hospitalization check-ups

Manage acute/episodic concerns

Manage chronic conditions
Caregiver Support
Providing care can be incredibly stressful. Our social worker is available to give one-on-one counselling support, e.g., help manage burnout and more.
---
How to Access the Program
Note: Effective January 1, 2022, the program is at capacity. Please check back for updates, thank you.
Eligibility Criteria
Please make sure you meet the eligibility criteria for the program before beginning the referral process.
You must reside within our catchment area (see map below). The boundaries are Steeles Ave W, Kipling Ave, St. Clair Ave W, and Dufferin St.

Postal codes include:

M3J, M3L, M3M, M3N
M6L, M6M
M9L, M9M, M9N, M9P

The following postal codes fall partially within our catchment. Check the map below for exact reference:

M3K
M6A, M6B, M6E, M6N
M9A, M9R, M9W, M9V

You face physical and/or psychiatric barriers to accessing primary health care as assessed by our primary health care team. These include: dementia, other mental health challenges, being bedbound, impaired mobility and terminal illness. 

If you already have a primary health care provider, you must be willing to transfer care to our clinic.

Please make sure to check the full list of criteria.
Full List: Eligibility Criteria (PDF – updated March 2022)
Map: Home Visiting Program Catchment Area 
Submit Referral Form
The Home Visiting Coordinator will complete the intake form with you/your caregiver.
If you are a referring clinic and/or health professional, please:
complete the following referral form and

fax it back to 647-847 – 8467.
Form: EKNPLC Home Visiting Referral Form (PDF – updated March 2022)
---
Program Details
Appointments
Home visiting patients receive four regular visits per year (one every three months) which mirrors in-clinic visits per patient.

Supplementary visits will be scheduled as needed. Please contact our Home Visiting Coordinator if a need arises.

If you receive health care from a provider outside EKNPLC, please advise the Home Visiting Coordinator as soon as possible. This way, we can contact the provider to make sure your medical chart is updated. 
Contact Information
Home Visiting Coordinator:

647-476-1351 ext. 200

(or press

option 3

from our main greeting)
Termination
Termination by the Clinic
Under rare circumstances, we may have to terminate the patient-clinic relationship. In this unlikely situation, the clinic will endeavour to facilitate your transfer of care to a suitable provider.

Possible criteria for termination: the relationship and/or home visiting environment is deemed unsafe for clinicians; repeated cancellations by the patient; and the patient seeking primary care from multiple providers.
Termination by the Patient
In situations where the patient-provider relationship is not maximally beneficial, we encourage you to speak to your Nurse Practitioner about any patient-care matters first.

Should you need further assistance or have concerns, we invite you to contact our Executive Director

 at 647-476-1351.
Brochure
See our Home Visiting Program Brochure for more information. Feel free to share it with people you know or clients who may be interested in this program.